Research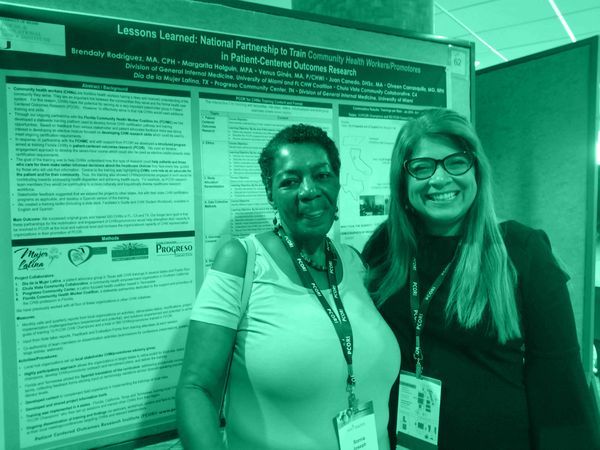 Current Work:
For more information on current works click on the link below. 
Final Report PDF
PCOR for CHWs Training summary to FL cHW C summit-Number 2 part_Sept 2019 (1)
National Partnership for Training Community Health Workers in Patient-Centered Research
National Partnership for Training Community Health Workers in Patient-Centered Research: Community Health Workers (CHWs) are an important stakeholder group in patient-centered outcomes research (PCOR). The core role of many CHWs as an advocate for the patient and for their community must be recognized. It has also been documented that there is a need for standardized curriculum and materials in CHW training, and also a lack of coordinated efforts by agencies using CHWs to establish training programs. This 4-yr collaboration with University of Miami developed and implemented a structured research training program in PCOR for CHWs, while strengthening the multi-stakeholder group in developing a structured training and state certification program for CHWs. Building on this experience, University of Miami and their stakeholder partners like the FL CHW Coalition across the state, with Chula Vista Community Collaborative in California, with Progreso Community Center in Tennessee, and with Dia de La Mujer Latina in Texas developed a PCOR elective module that can be used by CHWs toward their state certification. Through the six regional CHW groups and increasing statewide organizational capacity for CHW utilization, the project used this PCOR for CHWs program to train a total of 14 national PCOR Champions and 593 CHWs in Florida (198), in Texas (230), in California (162), and in Tennessee (3) in patient-centered research by September 2019. A toolkit with slides, a facilitator's guide and a CHW student workbook was developed and pilot tested in both English and Spanish that can be used by groups in other states as is or as a template to develop a similarly structured program. The curriculum was designed for a group of maximum 20 participants per session as to be participatory, with a mix of adult learning strategies using lecturettes, case studies, short videos, role plays and small group work. With the toolkit, this project has developed a cadre of PCOR-trained CHWs, presented the findings by CHWs via a poster at the 5th Annual PCORI meeting in DC on September 18-20, 2019 and facilitated the meaningful involvement of this important stakeholder group in PCOR nationally. See below.
project link: 
https://www.pcori.org/research-results/2017/national-partnership-training-community-health-workers-patient-centered
Coronavirus Education Webinar for Florida Community Health Workers